Many of you may have been hearing or reading about fintech in the news lately. In fact, according to a report by Deloitte, the fintech industry could create up to 5,000 jobs by 2020. This is a good news story for any country, but before we get too excited, we should ask ourselves, What exactly is fintech?
In general terms, fintech is the fusion of finance and technology. Essentially, it refers to how technology is disrupting the finance industry and breaking down the barriers of a sector which was once dominated by big banks. Finance doesn't have to mean workers in suits in big office blocks.
So, now we know what fintech is (kinda) let's take a look at some Irish fintech companies. Even if you've just discovered the meaning of the word, you may be surprised to discover that you have in fact used some fintech services without even knowing it.
"Realex Payments is one of Europe's largest and fastest growing online payment gateways, providing a range of payment processing services for businesses selling online" Blah Blah Blah! In normal terms, Realex is a technology company that helps you to pay online. If you have ever placed a bet on Paddy Power or bought something on Vodafone, you used Realex and have therefore joined the fintech revolution. Viva!
"Fineos is the number one provider of group and individual software solutions for the global life, accident and health insurance industry" Zzzzzz. Have you got insurance with FBD? Maybe Life Assurance with Friends First? If so, Fineos have managed your monthly payments. You've hopped on the fintech train. Choo choo!
Stripe provide a suite of APIs that powers commerce for businesses of all sizes. Still awake? Put away the dictionary; Stripe help businesses sell to consumers. Their technology is used by Twitter and Facebook to facilitate payments. Been spending some moolah on social networks? You are a fintech fan too.
Ok so now I have a better understanding of fintech, so what?
The emergence of fintech services has helped millions of SMEs across the globe to not only enhance their business offering (by way of online sales for example) but can help you as a business owner to save costs. Why? Well the simple answer is that because fintech companies are smaller than traditional providers (like banks), costs are smaller and these savings are passed onto customers by way of lower fees. Let us consider the example below when accepting card payments in your business.
Sumup provide a mobile card terminal that turns your smartphone into a credit card machine. You can check them out here.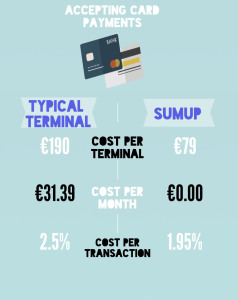 As you can see, fintech can offer a great alternative for business owners. If you like the sound of saving money compared to traditional providers, you should consider giving us a call the next time you are looking to raise finance for your company!