It's no laughing matter: Laughter Lounge's Peter O'Mahony shares his reopening tips for hospitality businesses.
Posted by Anna O'Grady on 9th June 2020
---
---
Experienced entrepreneur Peter O'Mahony is no stranger to the ups and downs of running a business, but the Covid-19 outbreak was something else altogether. Overnight, his iconic Laughter Lounge venue in Dublin city centre went from a place heaving with happy guests, to one of echoing silence. Not the type to sit back and wait it out, Peter's lockdown story has been quite a tale. He took some time out to speak to Linked Finance about what he has been doing to prepare his own business for reopening, and to share his advice with other hospitality businesses.
Peter, what have the past 3 months been like for you and the Laughter Lounge? 
The process of closing the doors on the Laughter Lounge was very tough for me and for the staff. Overnight the business had to close and at the time there was no indication of when or how the venue may reopen.  I employ 31 people and they are currently all on the government's Pandemic Unemployment Payment because there was no income coming into the club, and there wouldn't be for the foreseeable future. We are hoping to reopen our doors again on 10th August and we have been putting all our efforts into ensuring that the Laughter Lounge is a place that our guests can feel safe, as well as a setting for a great night out. 
You've not been sitting at home quietly anyway?
No, quite early on we got involved in raising money on what would have been Daffodil Day, which is one of the main fundraising days for the Irish Cancer Society. We live-streamed a comedy show called "Laugh-Odil Day" on youtube and facebook and raised over €40,000 for the charity. That gave us and the team a huge boost and proved a concept around live-streaming comedy nights. So we are now live-streaming comedy regularly and also running bespoke live-stream comedy events for companies.
How have you been preparing for reopening your business? 
This has taken a lot of my time and it is complex. We want the venue to be a place that is top of mind when people start going out again later in the summer. So we quite quickly reviewed the Government's Returning to Work Safely protocols and looked at how this could be adapted to our business. We looked at the business from every angle, starting with how our staff and guests will use the venue and then looked to address each of the requirements around ensuring social distancing, maintaining the highest levels of cleanliness and ensuring the safety of our staff and guests while on site. 
I called in favours from others in the industry, I spoke to health and safety experts and business continuity consultants and all of this expertise went into the document. I made our preparations open source for any businesses to use and improve as they saw fit.  It's been a really interesting exercise, I've made several new connections, one of which has resulted in an innovative "drive through" stand up comedy night which I am looking forward to staging soon. 
What's been the biggest challenge to preparing for reopening?
The biggest challenge for all hospitality businesses in applying the 2-metre social distancing regulations. The Government's final decision on this will make or break the viability of the industry. My venue can hold over 300 people, but if I am to apply the current regulations the maximum capacity I can have is 120, so I will be working at a third of my capacity and therefore a third of potential income. At the same time, my fixed costs don't reduce and in practicality, the amount of staff, security and cleaners I will need each night won't reduce as I will need them all to help ensure we can marshal people safely around the venue and perform more cleaning rounds. 
I am hopeful that as we get closer to the opening deadline, these regulations will be relaxed once we see restaurants and other hospitality get back in business from the end of June. 
How have you kept in contact with your staff during the closure?
Keeping the people who worked at the venue engaged and informed was really important to me because I want them all back when we reopen again. So we have a weekly call which is very well attended, and we are all on every Friday when we livestream the comedy nights. This has given the team a continued sense of identity and a reason to keep engaged and share ideas with us. 
Finally, would you have any other tips or advice to share?
The first piece of advice to fellow hospitality business owners is to have a look at our document and see how it could be applied to your business. The other tip I have is to remember that the 2 metre rule applies between groups of people, not individuals. So that means I can come with my wife and another couple, and we just need to be seated 2 metres apart from another group. So it's a good idea to incentivise people to come in tables of 4, as you can increase your capacity slightly. We've looked at doing special ticket offers for 4-person bookings for example. 
Lastly, if you have a list of customers that have subscribed to email communications from you, ask them about how they would feel about coming back to your venue, what would they expect to see happening, or what types of special offers or deals you can provide. If anything, it's a great way to start engaging now with your customers and reminding them of your existence, even before you reopen. 
Peter O'Mahony is the founder of Linked Finance and Dublin's Laughter Lounge. Linked Finance is grateful to Peter for letting us promote his reopening guide with our customers and visitors, and has recorded a video introducing the key points.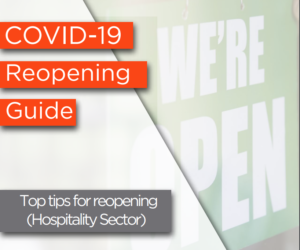 Further details on the Laughter Lounge Friday night livestream events can be found on the Laughter Lounge facebook page
Find out more here about their bespoke virtual comedy show packages 
Finally, if your business could benefit from additional working capital to aid cash flow or to adapt to the new normal when reopening your business, Linked Finance is here to help.  We can provide simple, no hassle unsecured business loans with minimal paperwork and no strings attached to drawdown. Apply now.
Topics: Ask the expert, Crowd Funding, P2P Lending