We were delighted to be able to support SOUP Dublin in February. This innovative event, which is entirely driven by the work of volunteers, provides a platform for ideas aimed at making Dublin an even better place to live.
Part of a global, grass roots movement that started in Detroit back in 2010, the idea is simple. Attendees pay €5 at the door. People pitch ideas, answer questions and then the crowd settles in for some hot soup and homemade bread while voting for the idea they want to take the prize.
It's a non-profit event and all proceeds go to the winning idea. The events are held in the YMCA on Aungier Street with the soup and bread kindly provided by Third Space.
SOUP Dublin February saw three great ideas pitched to more than 40 attendees. Peter from Humans of Dublin was there documenting the evening on Instagram and Ciaran from The Glass Wall was doing a great job live streaming the event on Facebook and managing all of the social channels.
The night kicked off with an update from previous winner Elisabetta from Revived Yarn. She told us about the progress she had made since taking home the prize in November. Her project sees volunteers collecting donations of unused yarn and breathing new life into these offcuts so that they can be used to knit free garments for Dublin's homeless community. Inspirational stuff.
And then to the evening's pitches…
---
Evocco
First up were the highly entertaining duo of Ahmad and Hugh from Evocco. As fun-filled as their pitch was, their idea is no laughing matter. The team at Evocco are working on the development of an app that will let shoppers make better choices when filling their shopping trolleys. Their app will allow you to scan your shopping receipts and get an easy-to-understand score based on the environmental, health and ethical impact of the food you buy. The ultimate goal is to give people the information they need to make more eco-conscious purchases.
---
Grow Me
The second pitch came from Amanda who helps run a 'no dig', organic, community garden in Dublin 8. The garden brings together people from across the local area, providing a sense of community and the opportunity to work together making a positive impact on the environment and quality of life in the neighbourhood. Amanda, a self-professed 'blow-in', spoke about how the garden really helped her to develop a sense of belonging when she first came to the city. She also described a great, new initiative that the project has undertaken, whereby volunteers from the garden collect used coffee grounds from local cafes and restaurants. The local businesses save on their waste bills and the garden gets some top notch composting material. A real win-win.
---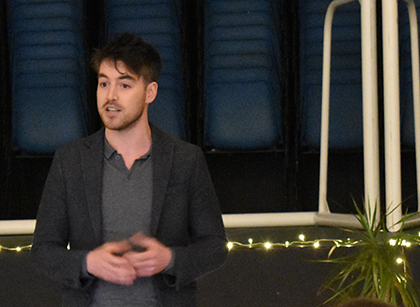 The Greatest Gift
The final pitch was delivered by John from Suas. This charity began in 2002, the vision of founder Michael King and a committed group of hard-working volunteers who believed that providing children with the gift of literacy was the greatest gift of all. Since then, they've directly supported over 12,000 children in India, Zambia and Kenya and trained over 1,200 Suas volunteers to work as teaching assistants in some of the world's most marginalised, under-resourced communities. Here in Ireland, they've helped over 3,300 children from disadvantaged communities to improve their literacy skills and have trained over 4,500 volunteer mentors to support them. John told three heart-warming stories about the positive ways in which Suas has improved the maths and literacy skills of three local children.
---
With the pitches complete and the questions answered, we all settled in for some hot soup and even hotter debate about who should take the prize. It was a tough call.
Each idea was inspirational and worthy of support. Alas, there could only be one winner, and so it was that John from Suas took the prize. Edging out the closest competitor by a single vote.
Suas is a fantastic charity that relies purely on donations. They receive no government funding and despite this, they manage to do really admirable work that has changed thousands of young lives for the better.
SOUP Dublin is an excellent initiative and one that we are proud to support. If you're interested in making Dublin a better place or if you see the potential to start a similar project in your own neck of the woods, I would highly recommend a visit to the next event. So, keep an eye on the SOUP Dublin social channels for information about when that will be. You can catch them on Facebook & Instagram.