Having recently reached the major milestone of €100 Million in SME lending, Linked Finance is now recognised as an attractive source of capital for ambitious Irish SMEs. P2P lending is now firmly on the map in Ireland and we've provided loans to businesses right across the country.
Where the money went…
Here we have put together a heat map to show you how much funding went to businesses in each county…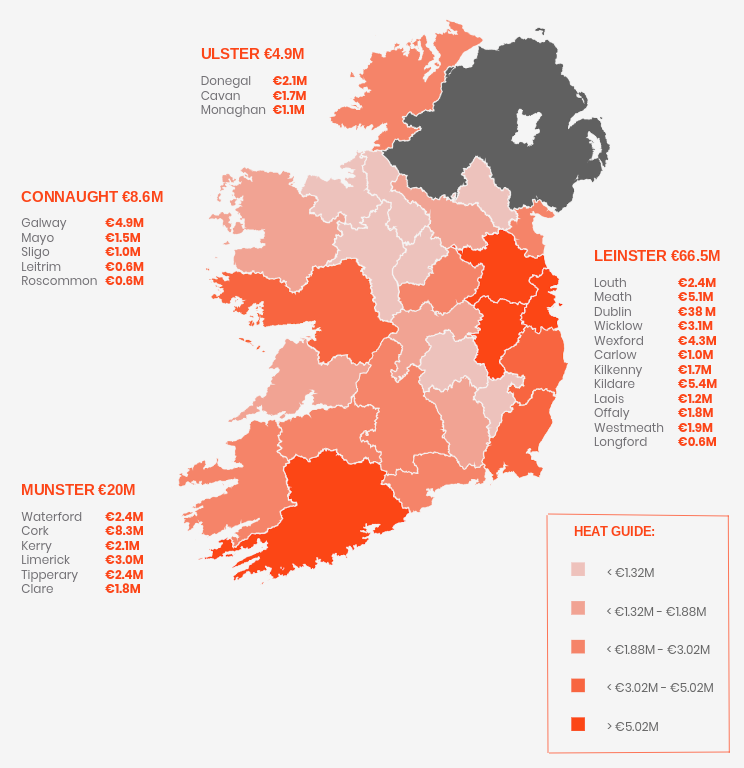 County by county highlights…
No surprises when it comes to population centres. Most of our lending was concentrated in the capital and major cities, with Dublin (€38 Million), Cork (€8.3 Million), and Galway (€4.9 Million) coming up trumps.
Areas borrowing similarly to city volumes tended to be counties in Leinster, for example, Kildare (€5.4 Million), Meath (€5.1 Million) and Wexford (€4.3 Million).
Regions west of the Shannon proved quietly robust with Limerick (€3 Million) and Donegal (€2.1 Million) both punching above their weight relative to their population size. Meanwhile Clare (€1.8 Million), Kerry (€2.1 Million), and Mayo (€1.5 Million) demonstrated a respectable appetite for the platform.
A surprising significant adopter of P2P finance was my own wee county of Louth (€2.4 Million), which at a fifth of the size matched the likes of sixth largest county in the country Tipperary (€2.4 Million).
The midlands successfully received their a fair share of lending with Westmeath (€1.9 Million) and Offaly (€1.8 Million) finding themselves in the mid-range, whereas much of Connaught found itself yet to warm up fully. For example, Longford clocked up little more than half a million.
All in all, an excellent adoption of P2P lending across the country thanks to the unique Irish SME ambition driving our economy forward every day.
Every day more and more business owners across Ireland are turning to Linked Finance when they need to access business loans of up to €300,000 in just 24 hours.
If you have ambitions for your business, Linked Finance can help. Apply now or call our loans team on 01 906 0300.